The Last Chapter of Wolf-Coming Story
Few months ago, I fell in love with a super attrative imaging device. I was the one who said wanna buy a DSLR at the beginning but ended up my friends around me have already bought in 450D, D80, 1000D, … =.=" Somemore I visited the shop three times but ended up came back home with empty hands. My friends named this as my wolf-coming story. Haha.
Finally, today I went to get one. Below is my package:
D90 kit + Tama UV filter + 8GB Ultra II + Nikon bag = RM4090.
Sigh, wondering how will be my next month life – maggi or cintan mee? Anyway, this is my dinner after came out from the shop, haha.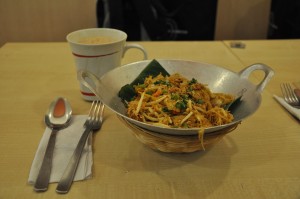 Box-opening session had been done using my Coolpix 7900 but something wrong with my SD card, so I re-upload it using my N82, haha! Deng..deng..deng..deng…